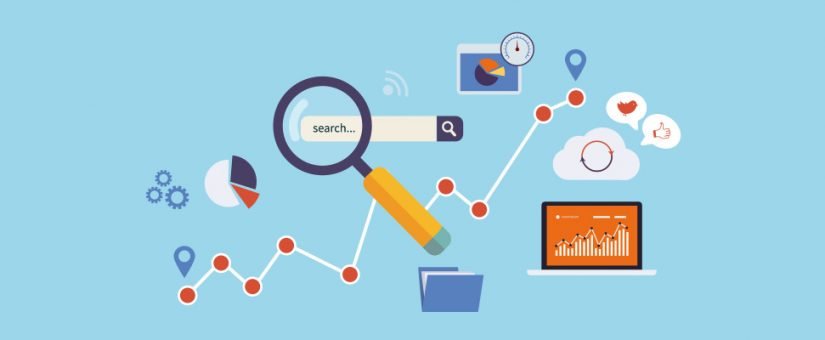 Posted by Trevor Weitzel
On September 25, 2017
0 Comments
Congratulations. You jumped on the cannabis gold rush and opened your own dispensary. We all know marijuana pretty much sells itself, but it's still a very competitive market out there, continuing to grow.
With online advertising opportunities being so limited in the cannabis space at the moment, it can be tough to know where to turn.
I may be biased, but if I owned a dispensary, I would be going all-in on SEO because it can bring you a positive return on your investment for many years to come IF you do it right.
Below is a list of the best SEO practices for dispensaries, which you can turn into actionable items to get your dispensary started on the road to SEO success.
 1. Track Everything By Setting Up Google Analytics & Search Console

Before you jump into any offline or online marketing efforts, it is incredibly important that you are able to track and measure your success.
Make sure to set up and install Google Analytics on your website and then verify it in Google Search Console.
These two essential tools can supply you with all the necessary data to help determine if your marketing campaigns are dank or simply went up in smoke.
2. Claim and Optimize Your Dispensary's Google My Business Page

If you want to enhance your local visibility on Google, then it is vital that you claim your free business listing on the Google My Business platform.
To ensure legitimacy, every physical business listed on Google needs to be verified via postcard. It will typically take up to two weeks for the postcard to arrive at your dispensary before you can get the GMB greenlight.
Keep your eyes peeled and be sure not to throw it out!
When filling out your listing, be sure to add as much information as possible:
Use your exact business name – NO KEYWORD STUFFING
Add high-quality photos
Make sure the address is correct (Pro Tip: Make sure your name, address and phone number are displayed exactly the same way on your website.)
Write a unique description that mentions your key products and services
If you have multiple locations, you'll need to repeat this process for each location. Be sure to provide unique and accurate information specific to that location on each GMB listing.
For your convenience, Google My Business allows you to manage all locations from a single dashboard.
There are additional steps you'll need to take on your website as well, but that is a post for another day.
3. Submit Your Business to Top-Tier Web Directories

Top-Tier web directories are simply sites like Yelp and YellowPages. Not all top-tier directories accept cannabis-related businesses though, but most of the major players do now as the marijuana industry continues to catch on.
You can either submit your information to each site manually or utilize a service like Yext or Moz Local to speed up the process.
Another option is to utilize MMX's Local SEO product to handle this for you. We have an experienced in-house team as well as multiple strategic partnerships that can keep your costs down and save you money.
4. Submit Your Business to Niche, Marijuana-Related Directories

Submitting your business to niche cannabis directories is actually a step that a lot of dispensary owners neglect.
Sure, everyone adds their business to Leafly and Weedmaps, but there are tens, if not hundreds of other marijuana directories out there – all of which you should be listed on.
Getting your dispensary listed on these sites enhances your niche-relevancy and can lead to greater SEO success. Why? Because you'll likely to show up more on weed-related search queries if your name is on all corners of the web. Some of these directories get a good amount of traffic and can increase your sites overall authority in the space as well.
5. Nail Your On-Page SEO

I'm a stickler for the fundamentals. I cannot emphasize enough how important your on-page SEO is when it comes to your search rankings.
When your on-page SEO is buttoned up, then your Google My Business listing is going to perform better, your citations will be more potent, and your backlinks will be more effective.
Get. This. Right.
If you'd like more information on the must-have elements for solid on-page SEO, I will be writing a follow-up to this post so be sure to check back soon. From properly optimizing your title tags to utilizing schema markup, this post will contain it all.
6. Build Out Individual Pages for Unique Services Like "Delivery"
There is a common misconception amongst many business owners that just because you mention a word once or twice in your content, that means that you should rank for it.
Unfortunately, that's just not how it works.
If you offer unique services such as marijuana delivery, then you should create a dedicated page for it. Consider a URL such as: mydispensary.com/denver-marijuana-delivery/
It's a best practice to have at least a few sentences of unique content on the page to support the service and a clear call to action for the customer to either order online or call your store a call.
7. Create Your Own Menu

I've been doing SEO for dispensaries for a LONG time now. One of the biggest areas of opportunity I see for them is to build out their own menu on their website.
Sure, the Weedmaps and Leafly menus are great, but they are ineffective for SEO because the embedded content isn't crawlable by Google and you'll never rank for strain-specific searches in your city.
Create your own menu to showcase your products. Better yet, consider creating a dedicated page for each strain you carry and write a unique description for it.
Doing this will allow you to target customers searching for those specific strains and you can drive them directly to your website instead of Weedmaps or Leafly getting that traffic.
Pro tip: Integrating video content onto these pages would put you light years ahead of your competition.
8. Blog About Cannabis-Related Content AND Your City

I get it. Blogging doesn't sound fun. Writing this post wasn't easy for me either. But in this day-and-age and competitive online landscape, it's a necessary evil. Blogging regularly can position you as an expert in your industry and instill confidence in both your peers and your client base.
Writing posts about the cannabis world can enhance your niche relevancy, so write about news, trends, politics, strains, and frankly–what your people are talking about.
Blogging can also help you establish relevancy in your geographic area. Write about laws or regulations specific to your city or state. Mention upcoming cannabis events in your city or your favorite places to smoke or vape locally (legally, of course.)
Establishing geographic relevance is everything in local SEO, so stay engaged and become a resource for what is happening in your area.
9. Stay Active on Social Media

Ask any SEO professional about the impact social media has on SEO and you'll probably get a completely different answer.
The key thing here is to simply stay engaged. Promote that awesome content you wrote for your blog, don't let it just sit there. Make customers aware of sales or specials. Get involved in niche-relevant groups. Ask your customers for reviews, in moderation of course.
Being active on social media will go a long way towards enhancing your SEO presence and keeping your business top-of-mind with consumers.
10. Get Reviews


Business owners tend to shy away from reviews because many customers are quick to leave a negative review over a positive one.
But did you know that reviews play a significant role in SEO?
Encourage your customers to leave you ratings and feedback on a variety of platforms including Google, Facebook, Yelp, Leafly and others. Get creative with it.
This user-generated content can provide great SEO benefits and it's incredible how much those little gold stars can influence a person's decision to utilize your business or not. In fact, a recent study on consumers in North America indicated that 91% of buyers read online reviews to learn more about a business before they make a purchase decision.
When a user does leave a review, do your best to respond with a quick thank you or thoughtfully address their concerns. This shows that particular user AND other users that you care about your customers.
MMX has an awesome reputation management platform that can help you with this.
11. Participate In or Sponsor Cannabis Events

Sponsoring or participating in cannabis trade shows and events isn't just beneficial to increase brand awareness, but it's also a super sneaky way to improve your SEO.
In the majority of cases, when you sponsor an event or participate as a vendor, you'll typically get a link on that cannabis event's website.
If they don't typically provide a link, it certainly doesn't hurt to ask for one.
With backlinks being a major ranking factor in the SEO game, these links from highly niche-relevant websites can enhance your own relevancy in the cannabis industry.
Get involved. Get a link. Get better rankings.
12. Give Back to the Community

Much like sponsoring an event, you can get the same SEO benefit from donating to charities or offering scholarships to students if the website offers a link back to your dispensary.
Most charity websites are highly authoritative, so their backlinks carry a ton of weight. Just make sure the charity actually provides a link on their website and you'll reap the benefits.
It's also no secret in the SEO world that links from .edu websites are also extremely powerful. Create a scholarship and add a unique page on your website that outlines the opportunity.
Inform various institutions about your scholarship and see if they will add the opportunity to their website. Be sure to link directly to the scholarship page.
Some schools and colleges may be hesitant to promote cannabis-related businesses, but if they do, the SEO reward is well worth your efforts.
Be careful not to overdo it here. Moderation is key.
13. Add an Email Sign-Up to Increase Conversions

Email is an extremely undervalued digital marketing tool. Many of the most successful online businesses in the world got to where they are by building a large email list that they can remarket themselves to over and over again.
Google loves engagement on your website. Integrate an email newsletter sign-up form on your website and get users to engage and convert.
Visitors completing these types of actions are a strong sign to Google that the user has found what they're looking for, that your site was relevant to their query, and will thus enhance your SEO presence.
Key Takeaways
SEO for dispensaries is no smoke break. There are a million and one moving parts and it can be difficult for any one person to carry out successfully, especially when you have a business to run.
Be patient and thorough during each step of the process.
If you don't think you have the capacity to handle it on your own, the experts at MMX are always here to help you.
Best of luck out there and here's to your SEO success!
Feel free to comment with any questions you might have.