The Future of Cannabis Under Biden-Harris
Posted by Marijuana Marketing Xperts
On June 21, 2021
0 Comments
Anytime there is a significant shift in the United States' political leadership, there is the potential for newly-enacted policies to have a major impact on businesses and the people that own them. That is particularly true for the cannabis industry, which is still very much in its infancy. Even seemingly minor changes could have a domino effect, redefining regulations, legalization efforts, and other critical factors across the country. So, what exactly does the future of cannabis look like under the Biden-Harris administration?
As President Joe Biden and Vice President Kamala Harris took office, many activists, entrepreneurs, and everyday consumers in the world of cannabis wondered: How will the Biden-Harris administration affect the cannabis industry?
There are several areas in which the new administration could influence the future of the industry, including:
Federal legalization

Cannabis banking legislation

The decriminalization of cannabis

Cannabis-related tax revenue

State powers vs. federal powers over cannabis regulation
As we reach the halfway point of the first year of the Biden-Harris administration, our team is breaking down what could be to come for cannabis consumers and business owners alike. And as the possibility of a more cannabis-friendly legislature lies ahead, we'll also be discussing what cannabusiness owners can do to prepare for a potentially very bright future.
Is President Biden for Cannabis? What About Vice President Harris?
Before we can dive into what lies ahead for cannabis, it's important that we take a closer look at both the President's and Vice President's stances on the subject. Let's examine their individual records during their time in office, as well as where they reportedly stand today.
Vice President Kamala Harris' Stance on Cannabis
In the early 2000s, VP Harris worked as a prosecutor for California and then held a position as the state's Attorney General. During that time, she oversaw a broad range of cases that involved minor cannabis offenses, some of which did result in incarceration for the accused. In 2010, when California was attempting cannabis legalization, she made it clear that she was opposed. When the initiative was again on the ballot in 2016, VP Harris was running for U.S. Senate and opted not to take an official position.
But by 2018, it seemed that Harris had begun to change her viewpoint on the matter. That year, she co-sponsored a bill that aimed to end the federal ban on cannabis, working closely with Senator Cory Booker (D-N.J.). When she began her run for Vice President in 2019, she was adamant about her support for full federal legalization of cannabis. She has also worked on and co-sponsored the MORE Act, which attempted to erase low-level cannabis criminal records, federally decriminalize cannabis, and financially support communities that have been disproportionately affected. 
Several advocacy groups, including the well-known NORML, have noted the Vice President's support for pro-cannabis legislation as a definite positive. However, there are still concerns that plans for decriminalization might fall short in actually helping those who need it most. In terms of the big picture, the majority of advocates are optimistic about the possible benefits VP Harris could bring to the industry as a whole. 
President Joe Biden's Stance on Cannabis
Much like our current Vice President, President Biden has received criticism for his previously tough record against cannabis. However, a key difference between the President and the VP is that President Biden has never officially stated that he is in favor of the complete legalization of cannabis on a federal level. As a result, there is a level of uncertainty as to how he may – or may not – support federal decriminalization. 
During the 1990s, Biden was a staunch opponent of any legalization efforts. He was known for having a very conservative position on the topic and a belief in strict penalties for individuals convicted of drug-related crimes. Moving forward to present times, it does seem that he is making an effort to shift his perspective on cannabis. 
He tends to favor medical cannabis legalization and has also voiced his support for the decriminalization of and automatic expungement of criminal records related to simple possession. Experts believe that he may help the industry in making headway in cannabis banking reform, which would be a huge step forward for all types and sizes of cannabusinesses. Biden has also discussed rescheduling cannabis rather than descheduling it (though there is much debate as to whether that would be an effective route).
Understandably, many people within the industry wonder if President Biden's current positions on cannabis will be enough to make a significant difference when it comes to legislation, but there is certainly a sense of hope.
What Will Happen in the Cannabis Industry Now?
Unfortunately, it's impossible to perfectly predict the future – even though that would be a handy skill to have! So, we can't say exactly how cannabis-related issues are going to be handled by the Biden administration going forward. 
What we can do is look at the possibilities that industry experts have been talking about, breaking down how each one could impact consumers and business owners alike:
Federal Legalization Of Cannabis
This is definitely one of the hottest topics and one that nobody can forecast with any certainty. Advocates are hoping that the administration will focus on fully legalizing cannabis in the U.S. instead of only decriminalizing it.

If cannabis is federally legalized, it will make it possible to generate tax revenue to support a broad range of needs. Legalization would also help the country begin to reduce the shocking disparities (both in class and in race) within the American jails and prisons. The "War on Drugs" had devastating effects on many communities, particularly Black Americans. The hope is that federally legalizing marijuana would be the first step in resolving that complex issue.
Reform for Cannabis Banking
One of the most pressing challenges facing cannabis entrepreneurs is an inability to access loans, lines of credit, and other banking services. However, legislation that tackles banking reform for cannabis businesses could bring about important changes. Not only could small businesses gain increased security, but it would no longer be so difficult to receive credit for business purposes.
The SAFE Banking Act, if passed, would attempt to tackle unfair banking practices that refuse to serve marijuana-related businesses. This legislation would open the door to federal banking services for cannabis businesses, though some critics are unsure how much it would actually improve the current situation. 
How to Make Sure Your Cannabusiness is Ready for the Future of Cannabis
If we had to summarize all of the complexities of cannabis-centered politics in one sentence, it would be this: all things considered, it's likely that the industry's fast-paced growth and expansion will only continue to pick up the pace. Marijuana has become more mainstream than ever, and as a growing number of individual states move to legalize it for both medicinal and recreational consumption, the business opportunities are plentiful.
Whether you're already a cannabusiness owner or you're just starting to consider getting started, the potential for outstanding success is there – if you're properly prepared. Not only will you need an outstanding business concept to stand out from the competition, but you'll also need solid marketing strategies to get your name out there. In today's digital age, that means utilizing tools and strategies such as:
Marijuana Marketing Xperts specializes in providing the cannabis-focused advertising and branding you need, and our team has the passion and dedication to help you pursue your goals. Learn more about what we can do to position your business for future success when you contact us today!
Featured Image: Dmitriy Prayzel/Shutterstock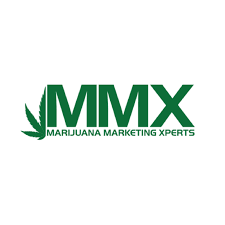 Marijuana Marketing Xperts (MMX) is a team of cannabis marketing experts that leads cannabis businesses and local dispensaries through the world of marijuana-focused digital marketing to increase online traffic, foot traffic, and sales. MMX specializes in search engine optimization, web design, social media, programmatic advertising and device ID targetting, and more.