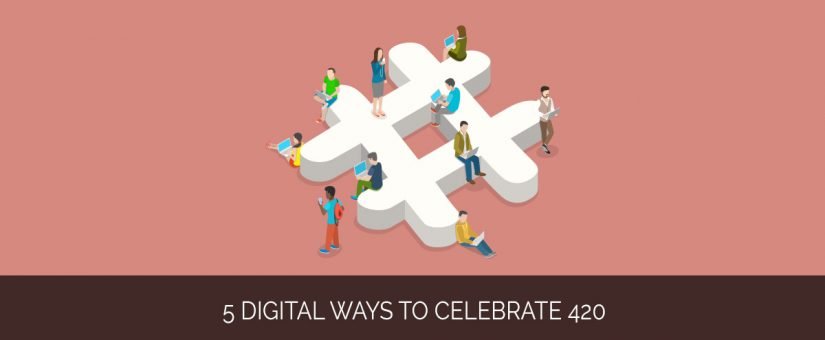 Posted by Noni Cavaliere
On March 27, 2018
0 Comments
420 is right around the corner! 420 is known as the best day in the cannabis calendar. You can celebrate 420 (April 20, 2018) at many of the nations dispensaries or in the comfort of your own home. You can do activism and celebrations for the cannabis industry right from your device too.
Engaged With a Hashtag!
One of the easiest ways to connect to the online cannabis community is to jump into a cannabis-related hashtag on Twitter, Facebook, Instagram, and Pinterest.
For example, on Twitter, the top three hashtags you can follow and engage with are #cannabis, #cannabiscommunity, and #cannabisculture.
Facebook Live
Use Facebook Live to have a conversation with your community about the positives of cannabis. For example, have a discussion about medical marijuana for people with chronic pain. Or just discuss your favorite new strains.
Join a 420 Friendly Social Network
If you haven't found out about the vast world of 420 friendly social networks, now is the time to join the fun. There are several ways to use these apps, from dispensaries connecting with local customers to finding that perfect 420 date.
Join a YouTube Video
Get some friends together or your favorite budtender and create a YouTube video series about the different niche topics instead of the cannabis community that you're passionate about. Also, find other YouTube creators who you'd like to engage with. Leave them comments on their videos or even pitch them to be on your YouTube channel.
Instagram the Day
Instagram is great for visually spreading the pro-cannabis message. Since the launch of Instagram Stories, you can also highlight the day in short video clips. Instagram has had a profound and lasting impact on digital communities. It's an excellent place to connect with cannabis influencers and brands as well as the general public. Use trending cannabis hashtags to get more views on your 'grams.
Bonus Activities, Non-Digital:
Immerse yourself in cannabis knowledge
Books like Cannabis Evolution and Ethnobotany, Cannabis Pharmacy, and The Cannabis Health Index are all great resources for learning the ins and outs of humans' ancient history with this plant. As we know it today, our relationship with cannabis is more than 12,000 years strong. This plant is way more than something people just "get high" with, time to celebrate it.
However, you choose to celebrate April 20, 2018; you have many options. Happy 420 Day to you!